Our team researches and develops IC chips for frequency synthesis and wireless communications. We design RF, wireless transceivers, all-digital I/Q modulator, digital pre PA for cellular basestations, mm-wave and mixed-signal circuits:
Our Published Projects
---
---
---
---
---
---
---
---
---
---
---
---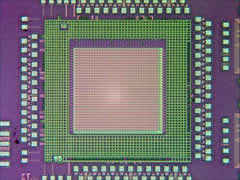 "Time-of-Flight 3D Imager Realized as System-on-Chip (SoC)
"
Research lead: Priyanka Kumar. Although 3D imaging techniques have existed for several decades, it has been mostly restricted to the research domain and high-cost low-volume applications. Stereoscopic (a set of two) 2D sensors have been mostly used due to low cost and short acquisition time. In most real-life situations though, true 3D imaging (with active illumination of the target instead of passive treatment of differences in perspective between two 2D sensors) is the only effective way for acquiring non-ambiguous 3D data. Unfortunately, the power consumption, cost and image acquisition speed are currently still severe roadblocks for 3D imagers and hamper their applications. This project is funded by STW in both phase I & II[IEEE Xplore link].